Let's take a look at the pricing challenges in the games and toys industry in particular, and the latest figures of the French and the German markets.
We don't buy a toy out of necessity. The drivers of consumer need and customer journey are therefore crucial topics when it comes to pricing games and toys: retailers who know how to extract key information from it will be much better equipped to optimize their pricing.
The article below highlights the strengths of a global pricing strategy that is based on customer journey's analysis, taking into account the characteristics of the retailer and its offer. How this data can be used and integrated to optimize your pricing strategy?
---
Our analysis focuses on the toy market – which shows specific operational complexities for price steering – but retailers from other sectors will certainly find similarities between the toy industry and their own.
The toy market is highly seasonal. 60% of turnover is done at the end of the year, plus there are significant trends. The product life cycle can be particularly short. Inventories and disposal issues are very high due to 35% of products being renewed every year on average. Prices are highly compared by consumers, and distribution channels are diverse. All these elements impact category management, and stand in favour of the implementation of a flexible pricing strategy that will be capable of responding to changes in the market and consumer expectations. Finding the right price at the right time, combining profitability and customer expectations: this is the challenge of good price positioning in games and toys distribution.
The toy sector: a prosperous retail market
With a turnover of more than 3.7 billion euros* in France in 2021, second in Europe behind Germany at more than 3.8 billion*, the toy market is doing very well. *Source NPD
8 of the 11 product classifications of the NPD Group panelist are growing in 2021. The health crisis has led families to come together to « PLAY TOGETHER ». This trend is reflected in the market indicators. Board games / cards / puzzles are on the rise and count for 18% of sales in Germany and 19% in France. Construction games also keep on growing: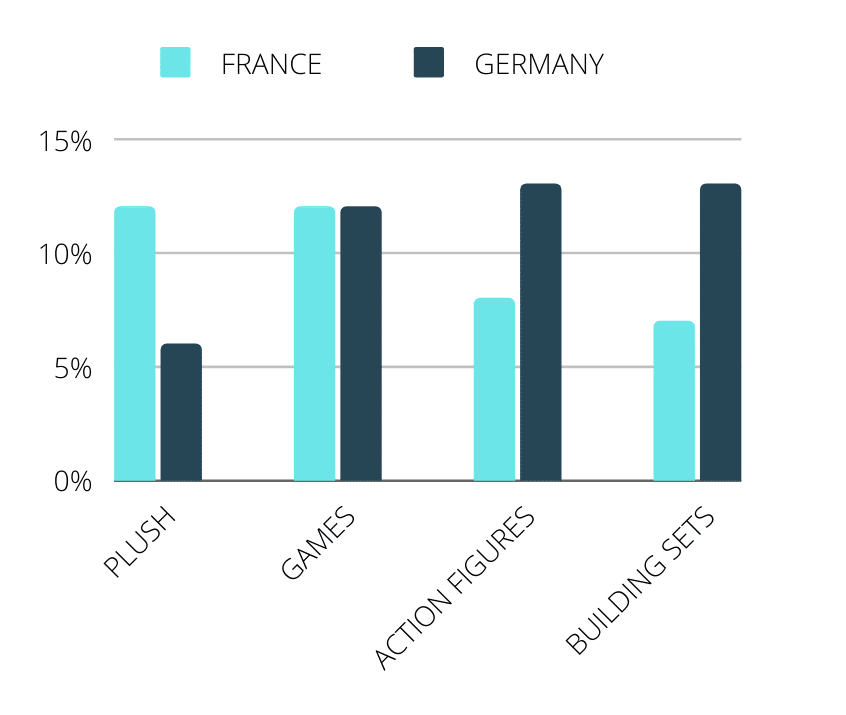 Consumers can show up in stores for several reasons. Whether it is to buy a toy as a gift, to develop a skill, or to make a birthday present, consumers have many alternatives to make their purchases. Small independent shops, specialized large stores, online sales sites, discounters, large food stores: they all compete to get the attention of customers.
Each distribution channel has its own specifics, objectives and economic model, but all aspire to meet the same customer expectations. Adapting pricing strategies to its own business model is obviously a necessity for a retailer. It is equally important to analyse the positioning of its competitors and to differentiate its strategy accordingly. For example, large food retailers offer a limited range of toys at aggressive prices in order to create traffic, particularly during the holiday season. They introduce loyalty card promotions on the entire toy department on a recurring basis during the season. This avoids displaying a low price (which would immediately be seen in competitive price tracking) and allows the investment margin of this promotion to be shifted to food-type products with better margins than the toy segment. Specialized toy shops cannot always align prices with competition from food retailers, as this would push prices too low. Offering a pricing that is aligned to the competition to create traffic is a real investment. The road to profitability requires measurement and steering efforts, an effective targeting on restricted assortments, plus optimized pricing on regular items.
Changing consumption habits
The health crisis has changed consumer habits. After an explosive growth in online sales in 2020, 2021 was a good year for toy specialists. Consumers have rediscovered the pleasure of going to the shop (+9% of turnover for this distribution channel).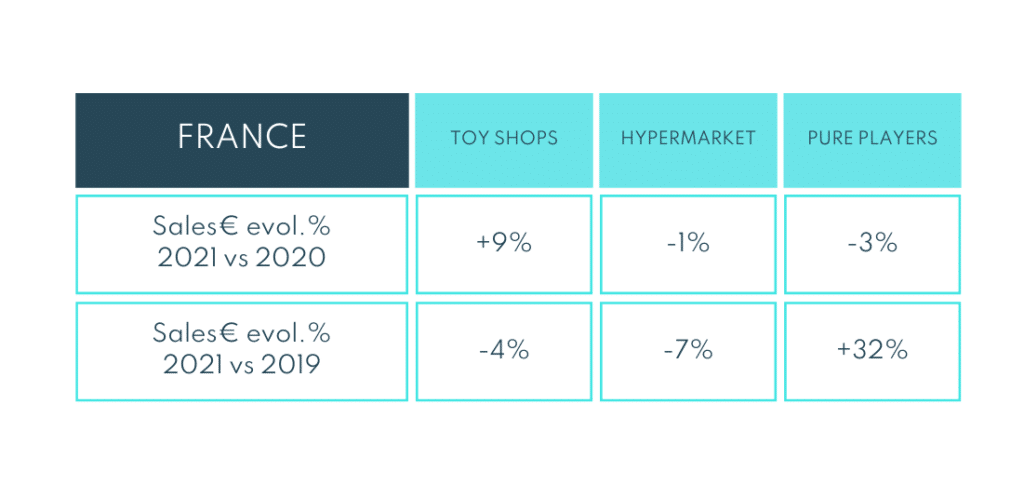 Increasing customer flow in store and reinforcing loyalty is very important after the Covid crisis. In order to reassure and reward customers who make the effort to go to the shop, retailers must reinforce what differentiates in-store experience with online experience, such as advices and services.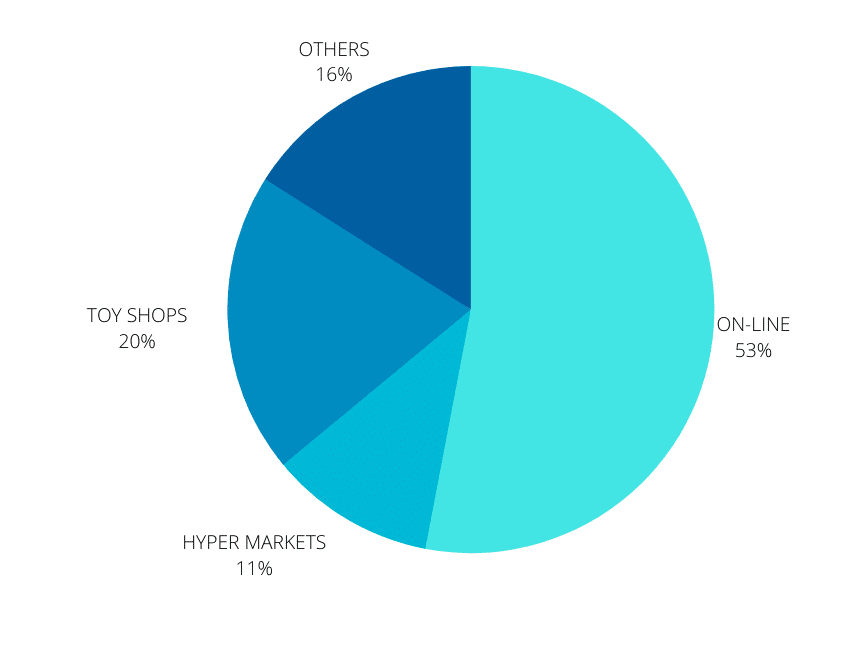 In this context, products' positioning and price consistency within the offer will be extremely important. Retailers do not want to deceive once the consumer has made the effort to go to the shop. To do so, retailers can control the story being told through prices on the shelf. Price consistency is not a simple 1:1 ratio between 2 products of the same assortment with the same characteristics. Price consistency must also be achieved within the assortment of a single brand, in line with the brand's strategy, its positioning, and according to the multichannel strategy. These are criteria to be integrated upstream of the pricing strategy and by doing so, you can ensure customers' confidence in your brand's prices.
Customer journey analysis: an amazing weapon for retailers
The customer buying journey brings together all the steps leading up to the act of purchase. It starts before a need is identified and ends with the effective purchase. This marketing concept is broad and sometimes difficult to comprehend. Identifying the main paths to purchase enables us to assess the importance of price in the final decision. The identification of high or low price sensitivities among products makes it possible to segment the strategy. It can be approached from a quantitative angle thanks to dynamic classifications that take into account purchasing motives. These classifications will then be used to implement a global pricing strategy. Mercio presents in this article an example of classification based on the analysis of sales receipts, leading to an optimized strategic segmentation.
"The customer journey, a difficult concept to comprehend, can be approached from a quantitative angle thanks to dynamic classifications that take into account purchasing motives."
But what are the tools that can help retailers understand how consumers make their decisions? Consumer surveys can provide useful insights. It is now very easy to perform consumer surveys thanks to online platforms that allow you to create your own questionnaire quickly, on a defined panel. In just a few clicks and a few hours, you can interview hundreds of people. You can also grab information in the field by asking customers: « Have you come to buy a specific product? Why did you choose our brand?". In-house market experts' knowledge can also be useful. In most cases, the customer journey is the result of a process that the most experienced category managers deeply understand as they are continuously analysing what is happening in store.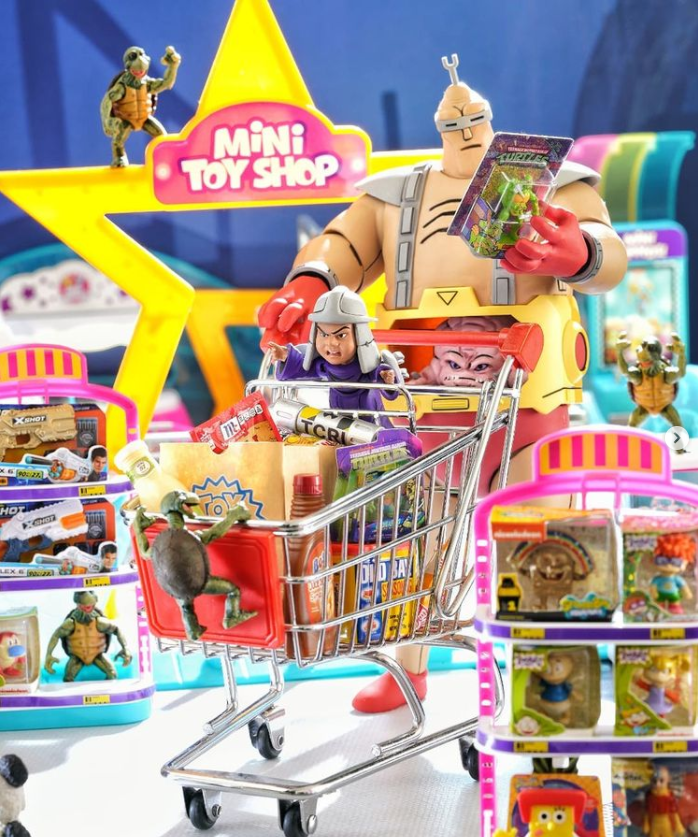 Beyond the consumer's planned purchase, generating interest in well-priced impulse products in the shop will increase the retailer's performance results once the consumer is in the shop. The pricing manager of a DIY retailer asked Mercio about impulse buying: how to identify it, and then set sales targets for these? The combined business expertises coming from product managers, category managers, shop managers, plus the support of technology solutions to analyse receipts can help identify these products and monitor their performance. Business experts will however insist that a perfect execution in store and a flawless availability will optimize this profitability lever.
Assortments' structure must be consistent with the customer experience
By analysing websites' nomenclatures, we identify various selection criteria. These criteria guide the consumer through his decision-making process. Each entry keys must be a response to a need's type. This will be translated in stores through merchandising, POS or advice.
Needs' types: fun / learning / discovery / imitation / exercise / creation / imagination.

Age

Price level

Licences and/or trademarks

Opportunity and/or promotion
Here is an example: I need a birthday present for my son's classmate who is 8 years old. I will be looking for a gift that will appeal to a boy, consistent with his age (8 years old) and with an average price of between 15 and 20 euros. The packaging must also be of a certain size in order to convey value. To meet this expectation and not lose this customer, the retailer must ensure that it offers products with pricing under the €20 threshold. From a strategic point of view, positioning the price at €21 is a real risk as it comes to a breaking point.
Further insights of this kind will enable the retailer to structure its range, define specific product segmentations and appropriate pricing strategies. For example, identifying that certain traditional wooden toys are mainly bought by grandparents who do not compare prices on the internet and whose average basket is higher; or that batches of private label modelling clay pots are bought by nannies solely on the basis of price.
Pricing agility in the face of changing trends
The toy market is strongly driven by licences. Despite the health crisis that impacted movies' releases, licences still own 23% of sales shares in 2021 (source NPD). The constant appearance of new licences requires real flexibility in referencing and pricing dynamics. Not all licences will have a glorious track record as Frozen's. 250,000 costumes and 500,000 dolls sold in France in the first year following the release of the movie. A turnover of 119 million €. It was a dazzling success and 8 years after its appearance, it is still one of the top 10 favourite brands in Europe (brandtrends.com).
By working closely with suppliers and licensors, it is possible to identify the right scope of deployment. It is necessary to take the right actions in terms of number of references and stock commitments. A licence can also decline very quickly. It would also make sense to include an analysis of marketing pressure in your pricing by identifying TV commercials, TV broadcasts of cartoon episodes, cinema new releases or any other marketing event showcasing the product. It will allow measuring the visibility of products and therefore their pricing sensitivity. This will also raise awareness on product's lifecycles and help detect any decline. Your challenge is to make the most of the licence before it declines and to sell your inventories before the end of its life while guaranteeing the best margin optimization.
Other phenomena can be real business opportunities. In recent years, a new type of customer with particular expectations has emerged: KIDULTS. Resulting from the contraction of « KIDS » and « ADULTS », Kidults are adults who buy toys for themselves. Often, kidults wish to cultivate a certain feeling of nostalgia. They are looking for a quality product, well cared for, with the aim of collecting them. They are demanding customers who know exactly the products they want. The 2 main buying criteria are availability and price. Kidults are aware of national release dates, like in video games. A Kidult must have his figurine at the time of its release! They are also aware buyers in terms of prices and build strong networks, sharing lots of information about the available offers. They are not necessarily looking for a promotion, but search for a price that reflects the value of the product, taking into account rarity, availability and quality.

This phenomenon is hard to quantify, but for emblematic brands such as Lego, 30% of its sales in value would be done with Kidults. This can be explained by a much higher average basket for this type of customer. In fact, the basket for adults is said to be worth more than €21, compared to €13 for baskets intended for children. Only the combined analysis of sales receipts and loyalty cards can enable retailers to measure this type of phenomenon.
To find out more about the Kidulte phenomenon: toy_world_magazinee
Another example, the "locally produced" market is growing strongly in some countries – for example: 14% of the market with a turnover increase of 15% to 20% in France for French manufacturers in 2021. In Germany, the "deutsche Qualität" market is more mature. Germans are already sensitive enough to buy German products, whereas French consumers have only recently become aware of the virtuous circle that « Buying French » generates. Value perception comes therefore into play in the pricing of these products. What is the fair value of a national production?
These niche targets, these new offers in line with current consumer expectations, are all opportunities for retailers. It can be transformed into a profitability lever as soon as the required actions are taken in a precise way. This requires detailed analysis, but can be done without the teams investing a huge amount of time. This way, retailers will constantly adapt to their market while serving their business model in the long term.
The toy market is constantly evolving. You have to adapt to the expectations of several target customers, to structural changes in the market, and to be aware of new consumer trends.
---
Going further with Mercio:
Thanks to Mercio, you will be able to master the data you get from your cash receipts and identify valuable insights into your customers' purchasing behaviour. Mercio will allow you to concretely integrate these insights into your pricing strategies. You will be able to optimise your pricing strategies thanks to a customised, dynamic segmentation and to ensure that your strategies are updated quickly according to the trends of your market. Thanks to Mercio's price optimisation software, you will benefit from the precision and agility required to manage traffic, margins and the price image, as you are facing pure players' aggressive competition. Find all our references and Mercio's offer in the « Our solutions » section.
Are you looking for content about pricing? Leave your email so we can send you eBooks!